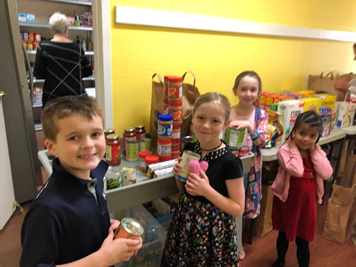 But Jesus called for them and said, "Let the little children come to me, and do not stop them; for it is to such as these that the kingdom of God belongs. (Luke 18:16)
Director of Formation Ministries for Children & Youth
Kristen Ketron: 804-464-1842 x111
This email address is being protected from spambots. You need JavaScript enabled to view it.
Vestry Liaison
COVID-19 UPDATE
All the formation opportunities we offer children & youth at St. Matthias during "normal times" are listed below. During this time of uncertainty and social distancing, we are doing our best to continue to offer happenings for our children and youth. We hold a Sunday School class for all grades via Zoom on Sunday mornings, from 11:30 am to 12:15 pm. Thursday evenings, youth are invited to join in on a virtual hangout with other youth from around our diocese - Episcopal Diocese of Southern Virginia (diosova.org). They check-in with each other and play lots of fun games. All known children and youth periodically receive projects in the mail. Some of these included a COVID-19 time capsule, a Mother's Day card project, and crafts to make for the celebration we had during Sunday School on Pentecost. If you are interested in joining in and receiving these activities, contact the Director of Formation Ministries for Children & Youth. This email address is being protected from spambots. You need JavaScript enabled to view it.
St. Matthias' Episcopal Church Christian formation program provides a safe and loving environment for our youngest parishioners to learn about God's grace, love and promises as revealed through His word. Programs include Sunday school, Children's Liturgy, Summer J.A.M., Vacation Bible School, special seasonal events, and a Nursery.
Sunday School (3 years old through 12th Grade) – Classes are held from 10:00 - 10:50 am during the school year. There are 4 classes, divided up by grades: Pre-K - 1st Grade; 2nd - 4th Grade; 5th - 8th Grade; and 9th - 12th Grade. Each Sunday school class has a curriculum specifically chosen to meet the learning styles for that age.
Pre-K - 1st Grade - Whirl: Classroom; relates to kids with entertaining and theology-targeted Bible stories, helping kids learn to seek faith and understanding through the Bible's message. Children also learn about The Lord's Prayer.
2nd - 4th Grade - SPARK: All Kids each lesson follows a four-part sequence: Gather, Open the Bible, Activate Faith leaflets, and finishes with a closing activity and prayer. In addition, this class works on learning the Ten Commandments and their meanings.
5th - 8th Grade - Living the Good News; a lectionary-based Christian education curriculum. The focus will be on how one of the readings currently relate to the students' lives. In addition, this class works on learning the books of the Bible.
9th - 12th Grade - Senior High Youth Forum classes cover topics relevant to the students' ever-changing lives and how they can adapt to their world as a Christian. It encourages discussion and reflection on various subjects, including creation stories, myths, rituals, miracles, stages of faith, dealing with doubt, and many others.
Children's Liturgy (Kindergarteners through 5th Grade) – Children's Liturgy follows the Sunday gospels, using The Liturgy of the Word with Children: A Complete Three-Year Program Following the Lectionary and Step By Step, both by Katie Thompson. The program introduces children to God's word and encourages them to learn about Jesus in a way that is both suited to their age and sensitive to their level of understanding. Through appropriately adapted Scripture texts, music, prayer, signs, symbols and activities, we can offer children the chance to experience a deeper understanding and participation in the liturgy.
Children begin the service with their parents then are invited to join with others for Children's Liturgy, returning during the Peace. They have the choice of staying with their parents or participating in a children's version of the liturgical celebrations. The children are warmly welcomed back to the main assembly when they return to their parents during the Peace and to share in the liturgy of the Eucharist.
Summer J.A.M. [Jesus and me] (children through rising 6th graders) – This is an alternative offering we provide on Sundays during the summer at the 10:00 am service. Kids meet for suitable movies that provide insight to God, His love, and His word.
Vacation Bible School (4-year-olds through rising 6th graders) – In keeping with our mission to, "Welcome all to be nourished in Jesus Christ . . .", we host a Vacation Bible School (VBS), usually held during the third week in July. Click here for more information.
Nursery (infants through Pre-schoolers) – Nursery hours are during the early and late services, as well as Adult Forum during the school year. Experienced adults and youth provide loving and engaging care as well as simple, age-appropriate crafts.
Safe Church – All persons working in our ministries are Safe Church trained. This training is grounded in our call to seek and serve Christ in all persons and respect the dignity of every human being. This training provides an opportunity to increase and enhance our ability to live out our Baptismal Covenant within our communities of faith and in the world beyond. Those working with children and youth also undergo a background check.
Volunteers - Many volunteer opportunities are available including Sunday school teachers, assistants or substitutes, Children's Liturgy teachers, special activities coordinators, and VBS leaders. Contact the This email address is being protected from spambots. You need JavaScript enabled to view it. for more information.
Friends are always welcome to join us!